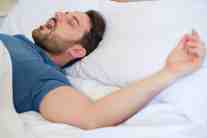 Snoring and Obstructive Sleep Apnea (OSA)
Snoring is often associated with a sleep disorder called obstructive sleep apnea (OSA). Not all snorers have OSA, but if snoring is accompanied by any of the following symptoms, it may be an indication to see a doctor for further evaluation for OSA:
Witnessed breathing pauses during sleep
Excessive daytime sleepiness
Difficulty concentrating
Morning headaches
Sore throat upon awakening
Restless sleep
Gasping or choking at night
High blood pressure
Chest pain at night
Your snoring is so loud it's disrupting your partner's sleep
In children, poor attention span, behavioral issues or poor performance in school.
Causes of Snoring
Snoring can be caused by a number of factors,
Anatomy of your mouth and sinuses
Alcohol consumption
allergies, a cold
weight
Nasal problems
Sleep position
Having a family history of snoring or obstructive sleep apnea
When you doze off and progress from a light sleep to a deep sleep, the muscles in the roof of your mouth (soft palate), tongue and throat relax. The tissues in your throat can relax enough that they partially block your airway and vibrate.
The more narrowed your airway, the more forceful the airflow becomes. This increases tissue vibration, which causes your snoring to grow louder.
Other Negative Health Effects Associated with Snoring
Habitual snoring may be more than just a nuisance. Aside from disrupting a bed partner's sleep, if snoring is associated with OSA, you may be at risk for other complications, including:
Daytime sleepiness
Frequent frustration or anger
Difficulty concentrating
A greater risk of high blood pressure, heart conditions and stroke
An increased risk of behavior problems, such as aggression or learning problems, in children with OSA
An increased risk of motor vehicle accidents due to lack of sleep
Technology Spotlight
NightLase®
Fotona's NightLase® therapy is a non-invasive, patient-friendly laser treatment for increasing the quality of a patient's sleep. NightLase reduces the effects of sleep apnea and decreases the amplitude of snoring by means of a gentle, laser-induced tightening effect caused by the contraction of collagen in the oral mucosa tissue.