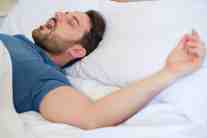 Our bodies relax when we sleep. Most of the time, this is beneficial. But what if, just as you drift off to sleep, you find yourself startled awake, gasping for air, unable to breathe? A state of relaxation can turn stressful very quickly, and you can find yourself getting much less sleep than you need to be healthy.
As our bodies prepare for sleep and relax, our throat and jaw muscles relax as well. If your airway is already constricted in waking life, this relaxation can cause complete blockage of the airway just as you fall asleep. Even more frightening is interrupted breathing where you fail to wake up, but instead choke, gasp, and fall back into deeper sleep. In some cases this can be dangerous or even life-threatening. At a minimum it increases stress levels in the body and creates restless sleep.
Gasping or choking for air during sleep can be a symptom of sleep disordered breathing or obstructive sleep apnea. Only a diagnosis by a qualified medical professional can identify obstructive sleep apnea, but dentistry has a part to play in alleviating the symptoms of sleep apnea. Utilizing state-of-the-art oral appliances - without CPAP or surgical intervention - we can expand and develop the jaw to open your airway and alleviate many of the symptoms of mild-to-moderate obstructive sleep apnea. Underdeveloped upper and lower jaws, as well as nasal dysfunction and other facial structural anomalies, can be incredibly detrimental to overall health and contribute to symptoms such as gasping or choking during sleep.
As clinicians focused on cranio-facial growth and development, we understand how critical jaw and dental development is to normal, healthy breathing and dental function. Contact us today to request an appointment and let our qualified team of collaborative professionals consult with you about how we can help your oral health.
We serve the Greater Richmond, Virginia area, including Chesterfield, Henrico, Powhatan, and Hanover counties as well as the cities of Richmond, Hopewell, Colonial Heights, and Petersburg. Request an appointment today to find out how we can help you smile brighter, sleep tighter, and live lighter!