Hypertension, or high blood pressure, is one of the most pressing healthcare concerns in America currently. Hypertension can cause the walls of the heart to weaken and thicken, increase resting heart rate, and make it difficult for your vascular system to deliver nutrients and oxygen to your organs and muscles. Heart disease, a group of disorders characterized by hypertension, is the leading cause of death in the United States according to the CDC.
Symptoms of hypertension can include difficulty breathing, tiredness or exhaustion, an irregular heartbeat, nausea, fluid retention, and more. These types of symptoms can be debilitating and even life-threatening. While hypertension and its associated effects may not seem related to dentistry or sleep and airway medicine, there is in fact a very strong link between the two.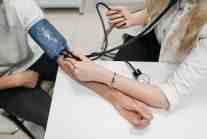 Mild to moderate sleep apnea is characterized by episodes where a person stops breathing during sleep. He or she may wake gasping and choking, or may not wake up at all. These episodes of sleep apnea prevent restorative, restful sleep. They can increase blood pressure - creating hypertension - which leads to the cascading effects and symptoms above. There's a clear correlation between mild to moderate sleep apnea, hypertension, and cardiovascular diseases. They share many of the same contributing factors, such as obesity and unhealthy lifestyles.
But it's possible to treat the symptoms of mild to moderate sleep apnea without surgery or pharmaceuticals. At Chester Dental Care, we use orthodontic devices to align the jaw, open the airway, and help you get deep, restorative sleep. Better quality of sleep may decrease hypertension and relieve other symptoms such as snoring and daytime drowsiness.
If you or a loved one are struggling to get restorative sleep because of mild to moderate obstructive sleep apnea, contact Chester Dental Care today. We offer treatment to relieve symptoms of mild to moderate sleep apnea in adults throughout the metropolitan Richmond area, including Chesterfield, Henrico, Hanover, Prince George, and Charles City. Our caring, holistic team of professionals can help create a treatment plan to help you or your loved one breathe right, sleep tight, and smile bright.