Is your child falling behind in school? Do they exhibit symptoms such as dark circles under their eyes or mouth breathing? If so, your child may be suffering from mild to moderate sleep disordered breathing.
According to the American Academy of Sleep Medicine, children who exhibit persistent sleep apnea are "seven times more likely to have parent-reported learning problems and three times more likely to have school grades of C or lower." That's a serious correlation, and we've known about it since at least 2006. The areas in the brain that control memory, learning, and complex thought can be damaged by prolonged sleep apnea. The lack of oxygen and constant waking cause by sleep disordered breathing can put your child permanently behind the curve. In other words, sleep disordered breathing can have lifelong consequences.
As a parent, you want to do everything possible to ensure that your child has the best possible foundation for his or her life. If your child is unable to concentrate in school, suffers from issues with memory and learning, that can jeopardize their entire future. But, often, important information regarding sleep disordered breathing isn't widely available. That's why you need a trusted professional to help you develop a treatment plan to treat the symptoms of your child's mild to moderate sleep disordered breathing.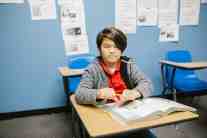 At Chester Dental Care, we use non-pharmaceutical and non-surgical orthodontic devices to align the jaw and open the airway. These devices are safe, effective, and proven to increase restorative sleep. Our team of specialists can collaborate to create a treatment child that alleviates these symptoms and gives them the best foundation upon which to build their education.
We offer treatment for the symptoms of mild to moderate sleep apnea in children throughout the metro Richmond area, including Chesterfield, Henrico, Hanover, Prince George, and Charles City. Contact us today to find out how you can give your child a brighter future - one where they breathe right, sleep tight, and smile bright.