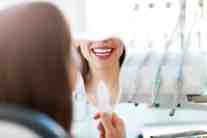 Restorative & Cosmetic Dentistry
Everyone's smile is beautifully unique, but there are times when you may want to change how your teeth look. In some cases, you may have damaged teeth or even be missing teeth due to illness, injury, or disease. You can always turn to our amazing team of passionate dentists to help restore your smile and make it brighter than ever. Our restorative & cosmetic dentistry in Chester, VA, is perfect for anyone looking to transform their smile.
Understanding Restorative Dentistry
Restorative dentistry helps you feel more confident and restores any function you've lost from damaged or missing teeth. Everyone's oral health is unique, and some people are more impacted by tooth decay, caries (cavities), and gum disease than others. They may be more prone to damaged teeth and even require extractions to preserve the surrounding tissues after teeth become extremely decayed.
Restorative dentistry includes treatments like dental implants, bridges, dentures, and crowns. In addition to enhancing the look of your smile, it can also make it easier to speak, eat, and sleep if your lack of teeth has made it hard to do so.
What Cosmetic Dentistry Can Do for You
Cosmetic dentistry focuses on enhancing your smile's appearance through treatments like teeth whitening and veneers. We love the exciting process of helping patients design their future smiles. Whether you want an ultra-bright gleam, natural shine, or to fill in gaps or correct alignment, we can help.
Our Smile Transformation Process
Your journey to a more radiant smile starts by scheduling an appointment for restorative & cosmetic dentistry in Chester, VA. From there, we'll design a personal treatment plan that helps you get your dream smile.
Step 1: Consultation
During the first appointment, one of our dentists will meet with you to discuss your goals. We'll take X-rays and digital scans of your mouth better to understand the structure of your teeth and jaw. This helps us customize your treatment plan and make personalized recommendations.
Step 2: Treatment Planning
During the planning phase, we decide on particular treatments and determine which order they will be performed. Restorative dental procedures can take weeks to months, depending on the complexity of a patient's needs; in addition to deciding on particular procedures and a timeline, we'll also discuss recovery, aftercare, and objectives.
Step 3: Procedures
The next stage is one of the most exciting — actually performing the work that will transform your smile! This could be teeth whitening, placing implants along with an orthodontist, placing veneers, bridges, or crowns, or making composite fillings.
These procedures will all be customized to suit your needs; throughout treatment, you will have our unwavering support while we move one step closer toward your healthiest grin!
Step 4: Continued Care
Once treatment is complete, we'll schedule follow-up appointments as necessary to ensure there are no complications. We do more than make your smile beautiful — we help you achieve the best oral health possible.
Schedule an Appointment Today!
If you would like to discuss restoring or enhancing your smile with an experienced team, contact us today! You can contact the team at Chester Dental Care by sending us a message or calling our office at (804) 748-2555.