In today's hectic and fast-paced world, it's critical for children to be able to learn and process information at the speed of the internet. As parents, we want our children to succeed in education, creativity, and, eventually, work and career. It's imperative to put your child in the best possible position to set and achieve their goals. But what if the way your child sleeps and breathes could put a ceiling on their success?
A study by Johns Hopkins shows that there is a strong correlation between obstructive sleep apnea, or OSA, and deficits in verbal function, executive performance, and memory. OSA can cause children to lose sleep and suffer from a lack of oxygen during the night. This lack of oxygen can impact your child's brain in a myriad of ways. Children with obstructive sleep apnea scored an average of 16 points lower on an IQ test than peers who had no issues breathing while asleep. Obstructive sleep apnea can affect the hippocampus and the right frontal cortex, two areas of a child's brain that control memory, learning, and higher-level thinking skills like recall and analysis.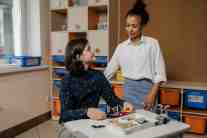 At Chester Dental Care, we treat the symptoms of mild to moderate sleep-disordered breathing by utilizing orthodontic devices. This treatment methodology doesn't require surgery or medication. It expands the palate and opens the airway to encourage nasal breathing and enhance oxygen flow, enabling your child to get deeper, more restful sleep. This can, in turn, help your child be better prepared emotionally, mentally, and academically.
Our collaborative team of specialists can help find and treat the root cause of mild to moderate sleep-disordered breathing in your child. We create a comprehensive plan of treatment so they can grow healthily, attain increased cognitive function, and experience restorative sleep.

We serve the Greater Richmond, Virginia area, including Powhatan, Henrico, Chesterfield, Goochland, and Hanover counties as well as the greater Richmond metropolitan area, including Hopewell, Colonial Heights, and Petersburg. Request an appointment today to find out how we can help your child smile brighter, sleep tighter, and live lighter!