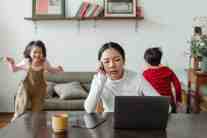 Getting a full night of restorative sleep is critical for your overall health. Sleep disordered breathing disrupts this natural process by constantly waking you due to gasping or choking for air. The result is daytime fatigue and a host of other symptoms that can disrupt your daily life.
Deep, full sleep helps grow muscle and bone, builds your immune system, and repair soft tissue throughout your body. Then, your body transitions into REM (Rapid Eye Movement) sleep. REM sleep is necessary to feel rested and ready to face the day. It's also where you dream and your brain processes subconscious thoughts, emotions, and experiences. But there's a catch - REM sleep only happens after you've been asleep for around 90 to 110 minutes.
If you constantly wake up due to gasping or choking for air, you never reach this deeply restorative phase of human sleep. This means less focus and more drowsiness during the day. It means you never get the amount or quality of sleep that your body needs. That's a problem!
Sleep deprivation and drowsiness don't just affect you. The National Highway Traffic Safety Administration estimates that in 2017 more than 90,000 traffic accidents were caused by sleepy and drowsy drivers. This caused over 800 deaths! Not getting deep, restful sleep can literally be deadly. In order to take care of yourself, your loved ones, and citizens on the road, drowsiness caused by sleep disordered breathing should be treated as soon as possible.
At Chester Dental, we specialize in helping you overcome the symptoms of mild to moderate sleep disordered breathing. By aligning the jaw and opening the airway, you can experience deeper and more restorative rest through all the stages of sleep. Our qualified, collaborative team of professionals can help create a plan for treatment.

We serve the Greater Richmond, Virginia area, including Chesterfield, Henrico, Powhatan, and Hanover counties as well as the cities of Richmond, Hopewell, Colonial Heights, and Petersburg. Request an appointment today to find out how we can help you smile brighter, sleep tighter, and live lighter!