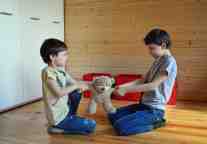 Remember when you were a kid? Life was often overwhelming, confusing, emotional, and just... too much. Now take that feeling of overwhelm and add a serious sleep deficit caused by mild to moderate sleep disordered breathing. Yikes! Your child probably doesn't know what to do with her or himself.
Deep, restorative sleep is important for healthy functioning. School-age children require from nine to twelve hours of quality sleep, and if they don't get it, it can seriously harm their overall health. Mild to moderate sleep apnea means that children wake up constantly due to a constricted airway and inability to breathe. This lowers quality and duration of sleep.
While adults tend to experience daytime drowsiness and fatigue when suffering from symptoms of mild to moderate sleep disordered breathing. Children, however, can be unsure of how to interpret their lack of sleep. This deficit can express itself as behavioral issues, ADHD, and more.
In fact, one study found that children with any form of sleep apnea had a four to six times higher chance of developing behavioral issues. This includes issues like ADHD, but also encompasses various patterns of disruptive behavior, communication issues, social problems, and inability to self-soothe or provide self-care. A major problem with these symptoms is that they can be misdiagnosed as other behavioral or psychological disorders. That's why it's critical to get an informed opinion from specialists who understand jaw and airway health.
At Chester Dental Care, our collaborative team of specialists is committed to finding and treating the root cause of such issues, which can be mild to moderate sleep disordered breathing. We create a comprehensive plan of treatment for your child to ensure their best success and overall health.

We serve the Greater Richmond, Virginia area, including Chesterfield, Henrico, Powhatan, and Hanover counties as well as the cities of Richmond, Hopewell, Colonial Heights, and Petersburg. Request an appointment today to find out how we can help you smile brighter, sleep tighter, and live lighter!