Having a tooth extracted can be a nerve-wracking experience for patients. However, we are careful to ensure we have tried all other treatment options before resorting to an extraction. Tooth extractions are typically recommended when a tooth has decayed to the point that it is beyond restoration and may pose other health risks. We may also suggest a tooth extraction if your child or teen has a baby tooth that will not come out on its own.
If you or your child is in need of a tooth extraction, Chester Dental is the best choice to provide you with comfortable and attentive dental care services in Chester, VA. Our team is experienced in treating patients with various treatment plans and dental issues, which is why we are confident you will be satisfied with our tooth extraction services. Contact our office today to schedule an appointment with one of our skilled dentists.
Indications You Need a Tooth Extraction
You will likely be unable to tell if you need a tooth extraction on your own. Only a dentist can recommend and complete a tooth extraction for you. These are a few of the signs they'll look for when recommending a tooth extraction:
Irreparable decay - If you have a tooth that has a deep-rooted cavity that cannot be restored with a root canal or filling, you will likely have to have it removed.

Extra baby teeth - In some cases, a baby tooth will have trouble falling out on its own, causing the adult tooth to grow behind it or preventing it from erupting. We will do our best to allow them to fall out on their own, but they may require some assistance.

Damaged or fractured teeth - If you have been in an accident and your tooth cannot be salvaged, we will have to remove it, and you can have it replaced later on.

Erosion due to periodontal disease - Periodontal disease is a gum infection that causes damage to the gums and allows bacteria to get into the gums and eat away at your teeth. If this progresses too far, your teeth will become loose and decayed. At this point, an extraction is necessary.

Space for braces - On occasion, when a person has overcrowded teeth, a dentist or orthodontist may recommend having a tooth removed to make room for the teeth to move more freely into alignment. By the end of the process, you will likely not even know it's missing.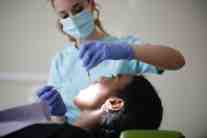 What's the Procedure for a Tooth Extraction?
Tooth extractions are, in most cases, relatively simple. For a tooth that has erupted and is above the gumline, our dentists will apply a local anesthetic, numbing the area and allowing the patient to feel more comfortable. Once they are fully numb, we will slowly sever the roots of the tooth from deep inside the gums. The entire procedure will take place while you are awake, although some patients opt for nitrous oxide–also known as laughing gas. This can help calm any anxieties.
However, in cases where the tooth is below the gumline, such as wisdom teeth, you will have to be put to sleep. We will have to go into the gums and carefully remove the tooth, sometimes having to break it up into smaller pieces.
Discover Relief With Tooth Extraction Services From Chester Dental
If you are in need of a trusted dentist to perform a professional and comfortable tooth extraction in Chester, VA, Chester Dental is the place for you. We utilize the latest treatment methods and tools to ensure your treatment is pleasant from start to finish. Contact our office today to schedule an appointment with our team.