Thorough Dental Cleanings & Examinations
Good oral hygiene is vital for a healthy and happy life! Keeping your teeth clean not only ensures that your smile shines brightly wherever you go but also helps keep harmful bacteria, inflammation, and other infections at bay. As you're already well aware, brushing twice a day is the single most important part of your dental hygiene routine—so let us help you take the next step further toward a healthier set of teeth with our expertly-performed dental cleanings and examinations here at Chester Dental Care in Chester, VA.
Our team of highly-trained and friendly dental hygienists and dentists have decades of combined experience and utilize state-of-the-art equipment to deliver the best dental care possible. And with our first-rate dental cleanings in Chester, VA—as well as thorough and honest examinations—you can trust that your teeth will be in good hands!
What Can Our Examinations Check For?
Here at Chester Dental Care, we believe preventive care is the best way to maintain oral hygiene and health. During our comprehensive dental examinations in Chester, VA, we take a close look at every aspect of your teeth and gums to make sure they're in tip-top shape. Our experienced dentists will examine each individual tooth for cavities, fractures, or other signs of disease while checking your gums and the surrounding tissues for any inflammation or infection.
Using special tools to get an even closer look at potential issues such as gum recession or misaligned teeth. During this process, we keep an open dialogue with you so that everyone understands what needs to be done next to ensure your dental health long-term.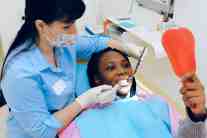 Why Get Routine Dental Cleanings?
Routinely scheduled dental cleanings are a crucial part of maintaining your oral health and hygiene. Though an adequate dental hygiene routine at home is foundational for a stunning smile, professional dental cleanings offer far more than just a cosmetic benefit—they can help keep your teeth and gums reliably healthy for years to come. Our top-notch dental cleanings in Chester, VA, can provide you with a number of benefits—including reducing your risk of disease and infection, protecting your gums, and preventing tooth decay.
Our expert hygienists use advanced tools and techniques to gently remove plaque, bacteria, and tartar buildup during your cleaning. Plus, we also provide additional treatments, such as fluoride treatments or sealants, which can help strengthen tooth enamel and protect against further damage in the future!
Finally, regular dental cleanings and examinations in Chester, VA, also allow our team to stay on top of any new developments or changes in your oral health. With our help, we can make sure that any arising dental issues are spotted before they worsen and are addressed as quickly as possible—saving you time, money, and pain.
Keep Your Smile Healthy With Chester Dental Care!
So if you're looking for the very best in dental cleanings and examinations in Chester, VA, look no further than Chester Dental Care. Our experienced dental hygienists and dentists are dedicated to providing you with the highest quality of care—ensuring that you can keep your teeth and gums healthy for many years to come! Contact us today by phone if you have any further questions, or feel free to request your appointment online now and start on the path toward a brighter, healthier smile!