Cancer is an unpredictable, scary experience, which is why we should do all we can to prevent it or, if we already have it, fight it before it becomes too strong. It can impact multiple body parts, and sadly, your mouth is no exception.
The National Institute of Health (NIH) reports that there are 53,000 new cases of oral cancer every year in the US. We do not tell you this to worry you but rather to bring awareness to its importance. Chester Dental cares for its patients and wants to ensure their health while under our care. Our compassionate team will ensure you are comfortable and cared for when you are our patient. That's why we do regular oral cancer screenings in Chester, VA. If it's time for your next oral cancer screening, contact us right away to schedule your appointment.
Oral Cancer Screening: What to Expect
Our doctors will visually check your mouth for any red or white sores or patches. Oral cancer can appear on the tongue, cheek, back of the throat, and gums. The sores or patches will usually be in large clusters in the mouth. They will also feel around for abnormalities like large bumps.
There are also special dyes that they can use that will cling to the cancerous cells and help your dentist identify oral cancer.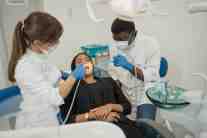 Possible Causes of Oral Cancer
There are a few common factors that can contribute to oral cancer, but they do not necessarily mean that if you partake in or have one of these factors, you will have oral cancer. Cancer is, unfortunately, unpredictable, and there is no way to be sure you will or will not have it. Hence, the importance of these screenings.
However, knowing the possible causes can make you better educated on how to avoid anything that may increase your chances of oral cancer. Common causes include:
Age: Those over the age of 40 are at the highest risk of oral cancer.

HPV: Human papillomavirus (HPV) is common among those with oral cancer.

Tobacco and Alcohol: Drinking and smoking have been linked to oral cancers and should be avoided.
If any of these resemble you, it's important to keep up with any necessary tests. Those aged 20 and up should get an oral cancer screening once every three years, while those aged 40 and above should have one every year.
Symptoms of Oral Cancer
It's important to be aware of the various symptoms of oral cancer so you can get to a dentist right away for screening.
White or red patches/ sores in your mouth or throat

Difficulty or pain when swallowing or chewing

A sore throat

Numbness in areas of the mouth

Pain in your ears
One or more of these symptoms could be important; please contact our office as soon as possible for an oral cancer screening in Chester, VA.
Schedule Your Oral Cancer Screening Today
Oral cancer is a serious condition that should be diagnosed and treated quickly to ensure as little of an impact as possible. Our team at Chester Dental prioritizes providing quality dental care, which is why oral cancer screenings are part of our routine dental care services in Chester, VA. We serve the greater Richmond area, including Henrico, Hanover, Goochland, and Chesterfield counties. Contact us today at (804) 748-2555 or request an appointment on our website for your oral cancer screening in Chester, VA.