The importance of keeping up with our dental and oral health is instilled into us from a young age. Unfortunately, dental health problems can arise whether or not you maintain a pristine dental hygiene regimen. From cavities caused by improper hygiene to unfortunate physical trauma to teeth, there are a variety of reasons why one may need composite fillings in Chester, VA.
Here at Chester Dental Care, we want to help you restore your beautifully unique smile with our first-class, state-of-the-art composite fillings. Led by our premier dentists, Drs. Rodrigues and Kennedy, our team has decades of combined experience in dentistry. With us, you can rest assured that your smile will be as good as new in no time!
So, if you need composite fillings in Chester, VA, don't hesitate to reach out to our team today at 804-784-2555.
What are Dental Composite Fillings?
Composite fillings are the go-to restoration option for teeth damaged by physical trauma and decay. Unlike other variations of fillings, composite fillings achieve a more natural appearance, often seamlessly blending with the natural shade of your teeth. However, that's not the extent of why they are the most popular choice of filling.
Composite fillings are also known for their durability and their efficacy. The composite resin that is used in this treatment can easily withstand the daily force of biting and chewing, maintaining the structural integrity of your tooth for years and years. Moreover, they also minimize any unwanted tooth sensitivity after the treatment is completed.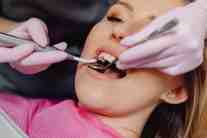 Reasons You May Need Composite Fillings?
As briefly touched on above, there are a number of reasons you may need composite filling. A few of the most common reasons are as follows:
Cavities: When cavities are cleared out and dealt with, composite fillings are used to fill in the vacant space to ensure that no decay is allowed to regrow.
Damaged teeth: Fillings are also used to mend and repair chipped and cracked teeth, ensuring their structural integrity moving forward.
Cosmetic corrections: In some cases, composite fillings can also be used to reshape a tooth to correct a number of cosmetic issues.
If you're concerned that you may need composite fillings in Chester, VA, please don't hesitate to get in touch with our team here at Chester Dental Care.
What Your Treatment Will Look Like
Don't worry—receiving composite fillings is a simple and relatively comfortable experience. With your initial consultation and examinations out of the way, your actual appointment will begin with a simple numbing agent to ensure the entire procedure is painless. If a cavity is present, the decay will be dealt with.
Otherwise, the damaged area will be cleaned and dried with your new composite fillings. Then, you're all done once the filling is properly shaped and polished to match your natural teeth!
Request Your Appointment for Composite Fillings in Chester, VA
Chester Dental Care is here to improve and preserve your dental health with quality composite fillings in Chester, VA. If you're ready to address your dental health issues, you can request your appointment easily online or by calling our team at 804-784-2555.